private - lovingly - small - familiar
feel at home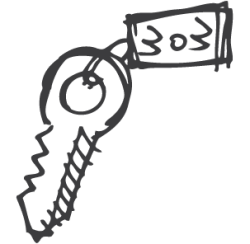 ---
Country style
double rooms under 250 year old wooden beams
Our small and enchanting country style double room is equipped with a corner table and farm house balcony facing east side providing you with morning sun and a splending view on our mount "Falkenstein". It is located on the second floor (in germany this means 2 staircases) in the historic part of the Binderhäusl and it has a non-refurbished bathroom with tube. Although it is smaller than the theme topic rooms, it is very popular for its individual style and cosy atmosphere.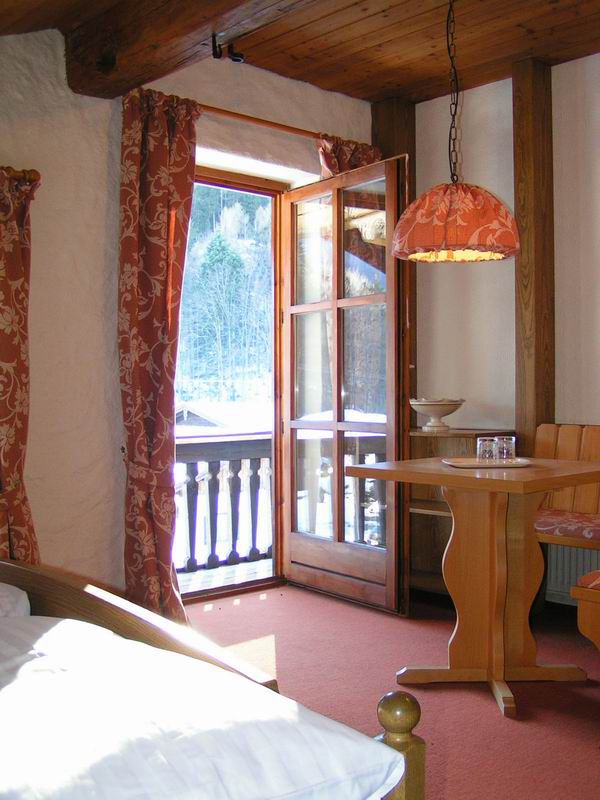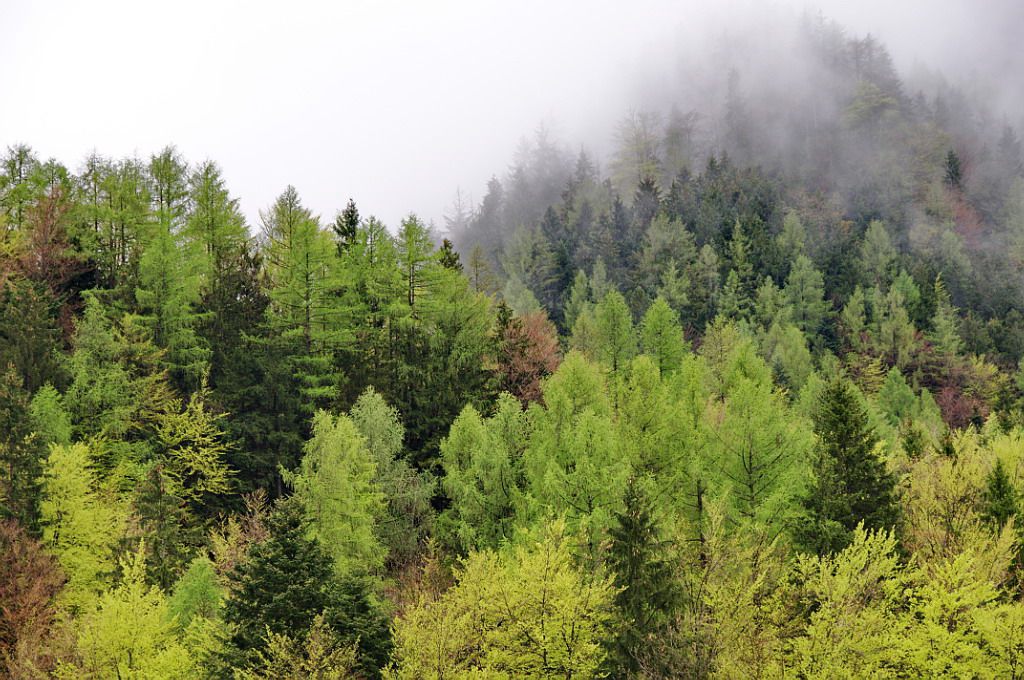 The wooden beams you can see on the pictures were built in the year 1756 when the Binderhäusl was errected as a cooperage. The german profession of a cooper is called "Binder" - giving the house its name.
Price from 45 € person/night
---
Theme topic
double room with mountain view
Falkenstein - Heimatliebe - Sunshine- Safari - Honeymoon - Sunset: that is how they are called.
Starting at 49 € person/night
Room details
Falkenstein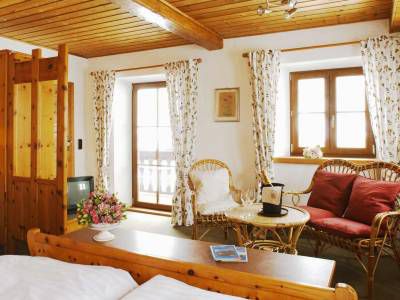 Balcony
Shower
Corner table
Dog ok
Located on the first floor in the historic part in the southeast corner of the Binderhäusl facing mount Falkenstein and sunrise.
It is very bright and one of our most popular rooms although it is smaller than the theme topic rooms in the newer part of the house. The small bath with shower has been completely refurbished recently. There is a makeup table in the room and a seating accommodation with two beautiful armchairs. When autumn is coming over Inzell you can pick pears directly from the pear tree growing on the southen wall.
You will love it! Pears and room ....
In this room, dogs are allowed and smokers are delighted about the old wooden farmhouse style balcony where you can enjoy the great view on our mountains. Sometimes our guests from big cities are a little bit irritated how quiet it is especially during night time.
360° View
Heimatliebe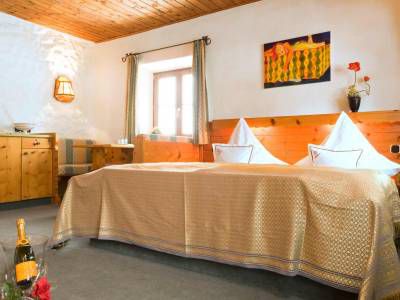 Balkon
Dusche
Sitzecke
Hund OK
Kinderbett OK
This lovely room is opposite of room Falkenstein on the first floor of the historic part and also facing sunrise in the east. In contrary to the bigger theme topic rooms in the newer part of the Binderhäusl it has a farm house style balcony. Moreover it has a new bathroom with shower. There is a big wardrobe and a corner table. Extra bed is possible and dogs are allowed in here.
360° View
Sunshine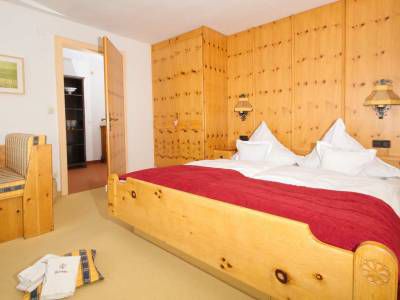 bath tube
supersize panoramic window
facing south
extrabed OK
anteroom
The big panoramic window opens the view to the bavarian mountains elevating up to 1.600 m in the south. Especially during the cold winter period, when the sun is standing low over the horizon this room is flooded with light. Exactly what sun worshipers are looking for desperately ....
In the hot summer the sun is far up in the sky, the room stays pleasantly cool, because the roof gives a shade.
The spacy bathroom with daylight has a bathtube. Due to the bright yellow carpet the room is unsuitable for dogs but big enough to put a extra bed.
Safari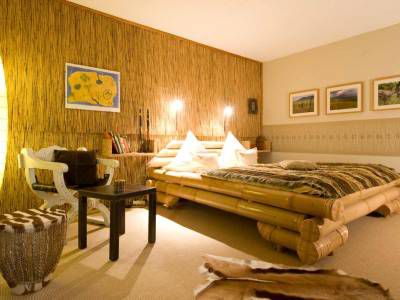 bathtube
anteroom
dogs OK
bamboo french bed
Africa in the heart of bavaria! Inspired by our south africa journey years ago we brought some ideas with us. The wall behind the bed is made from reed and a lot of tiny and lovingly accessoirs let you feel 'safari'. The bathroom has a bathtube and its big window gives you a great view on our mountain "Teisenberg".
The 2 m long bamboo bed french style is suitable for very tall persons because there is no annoying foot part. Dogs are ok in this room.
Honeymoon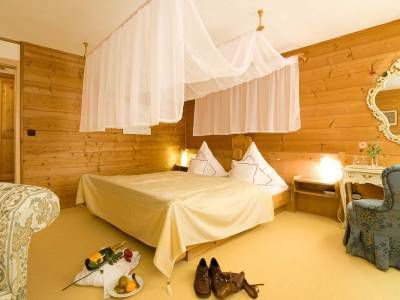 bath tube
facing west (sunset)
anteroom
canopy bed
extrabed OK
For all those who fell in love freshly or still are in love or those who returned to his or her darling .....
The warm yellow curtains correspond perfectly with the cosy wooden walls of the large room. The decorating copper engravings loop up the topic of the bed and invite you to chill even in the afternoon if you want.
The daylight bathroom has a tube and the spacious wardrobe is in the anteroom. No dogs in this room because of the bright carpet.
We can confirm a certain room if you stay 5 nights or longer. If you are staying shorter and like to have reserved a specific room, we try to so but without any guarantee.
---
Familyroom
If you need it bigger
The Binderhäusl-Room is our biggest room and therefore suitable for families with 2 kids up to about 14 years. Or you go into the room with 3 grown ups.
It has a balcony to the west, a anteroom with accessable wardrobe and a big bathroom with supersize shower & a wooden bathtube.
No dogs allowed.
For families we can also arrange two separate rooms (country style double room and single room with extra bed) door by door. You can not book family rooms online, so we would like to ask you to contact us by phone in order to find the best suitable configuration for your needs.
XL shower & wooden bathtube

from 50 € per adult/night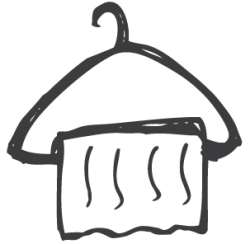 ---
Single room
Cute & cosy
Small but big enough for a relaxing stay and with stylish modern bathroom with shower.
In addition
To know what to put into your suitcase or not, here is a list of all amenities we will provide for your stay.
inclusive
excursion info and tons of hiking & biking maps
equipment
all mattresses 200x90 cm (except Safari room)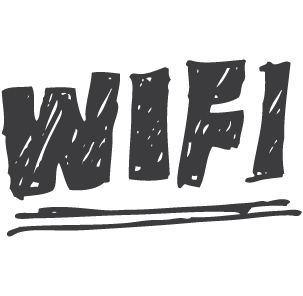 free of charge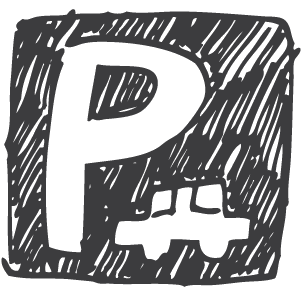 free of charge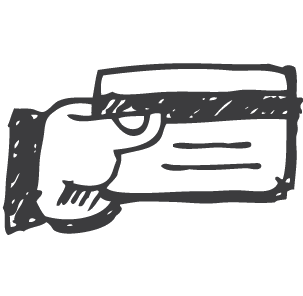 debit card ok
extra bed (3 to 12 ys.) per night

extra bed (13 to 15 ys.) per night
transfer bus terminal Inzell
Coffee vending machine and fridge
accessable 24/7 behind the library room
softdrinks & lemonade 0,5 l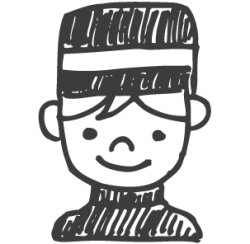 3-course dinner menu
29,- €
With a lot of love, Karo conjures up an exciting 3-course menu for you every evening. She pays particular attention to variety and creativity. If you suffer from food allergies, please clarify in advance whether we can take this into account. Vegetarian half board is ok for us, vegan half board is not (please order from the menu card).
On rest days, the half board is of course not charged and will be deducted from your room bill.
Here are some examples of Karo's magic recipes in the last few months and what you can look forward to when great food is one of your hobbies. The perfect corresponding wine (or "crafted beer") will then be suggested by Yoshi ... Here are a few examples:
Gratinated goat cheese with rucola and kumqvat ragout
Grilled pike perch with cranberry sauerkraut and rose hip sauce
Coconut panacotta with mango puree
Grilled fig with cross bacon filled with mozzarella
Lamb chops with spinach and lemon-ricotta-tortelloni
Strawberry-mascarpone-crème
Salad with grapes, walnuts and cranberry vinaigrette
Grilled filet of pork with plum-cream-sauce and cous-cous
Japanese style dessert variation
Foamy apple horseradish soup
Grilled filet of salmon with lemon risotto
Yoghurt mousse
Green salad with honey balsamico vinaigrette
Grilled quail with crispy bread crust, black lentils and gnocchi
White chocoloate mousse with raspberry puree
Foamy currysoup with tempura king-prawn
Grilled filet of codfish with balsamico onions and saffron risotto
Lemon-curd-triple
Salad with strawberries, buffalo mozzarella and green asparagus
Grilled rockfish with ginge sauerkraut and potatoes
Sweet sushi
Chestnut soup
Filet of organic pork with honey-thyme-sauce, vichy carrots and rice
Kaiserschmarrn with plum compote
Shu-Mei soup
Chicken sticks "Yakitori" with caramalized soy sauce and rice
Chocolate tarte Nemesis
Carrot soup
Grilled duck breast with red currant sauce and bavarian style potato pasta
Limoncello-mascarpone-crème
Herb smoothie
Spinach-ricotta-dumplings mit roasted pine seed, cherry tomatoes and parmesan
Coconut sorbet with green apple puree
Beetroot-chili soup
Corn chicken with teriyaki sauce and black salsify
Karo's "heavinly raspberry"
Asparagus-mozzarella-salad with strawberries and baby spinach
Cotelette of pork with spinach pesto, potato wedges and seasonal vegetable
Strawberry tiramisu
Bavarian trio of antipasti
Bavarian ravioli stuffed with truffed cheese, parsley foam and crispy breadcrumbs
2 scoops of sorbet - Pink-grapefruit and passionfruit
Melon with Inzell ham
Ragout of veal with cream and "Spätzle potato pasta
Red fruit jelly with vanilla sauce